Start me up
It's never too early to start building your own business empire – and university can provide the ideal springboard to success
The most successful investor of the 20th century, Warren Buffett, recently urged university students not to shelve their business ideas because of an unfavourable economic climate. "That's like saving sex for old age," he says.
And he's got a point. In so many ways, university is an ideal place to start a business. You have resources galore at your disposal, including IT equipment, libraries and specialist technology such as 3D printers. You have time and space. You can call upon the advice of professors with specialist knowledge – the kind of people who, in the real world, are called "consultants" and who'll charge you an arm and a leg for advice.
In your university peers, you have a support network that might even become your core customer base. You'll be forgiven for making mistakes: you have no responsibilities, except to yourself, and are able to take risks. Indeed, your youth will mark you out, get you media attention and might even endear you to "angel financers" – wealthy Dragon's Den-style investors looking for a slice of new start-up.
Be your own boss
A recent report by the Prince's Trust and NatWest revealed that a third of 16- to 30-year-olds expect to be their own boss and a quarter believed this would happen within the next five years. More than a quarter of unemployed young people would rather try to set up their own business than continue to job-seek in today's competitive market. In 2016, a record high of 16 per cent of the UK workforce was self-employed, around double the percentage 40 years ago, with the self-employed now set to overtake those employed in the public sector. Figures from the Office for National Statistics show that the number of self-employed young people has already risen by 71,000 since the start of the economic downturn.
Student entrepreneurs can gain inspiration from YouNoodle, a "university innovation" platform that reminds visitors that recent student start-ups include Google, Microsoft, Facebook and Yahoo. YouNoodle has rated Cambridge University as the world's third-best university start-up community and the best in Europe. Its student entrepreneurs are supported by two specialist organisations: CUTEC (Cambridge University Technology and Enterprise Club) and CUE (Cambridge University Entrepreneurs).
"Student entrepreneurs are heavily supported by the Cambridge entrepreneurial ecosystem," says Liz Williams, Chair of CUTEC, which currently boasts more than 4,500 members and lists over 300 start-ups.
"Apart from learning how to start your own business, CUTEC is also an excellent platform for students and young professionals to discover and explore alternative career paths," says CUTEC alumnus Lukasz Mlodyszewski. "I recently began working for a leading early stage venture capital firm, and the wide range of skills I gained during my time at CUTEC definitely helped me get the job."
Cambridge calling
CUE, which has more than 100 members and lists over 50 start-ups, also hosts the student-run Entrepreneurs' Business Creation Challenge. Since 1999, the contest has awarded in excess of £500,000 in prize money to some 40 start-ups. Collectively, CUE alumni companies have gone on to secure more than £42 million of investment. Cambridge also boasts a Centre for Entrepreneurial Learning, which aims "to spread the spirit of enterprise to the university".
In addition, Downing College offers its students and alumni the chance to win up to £25,000 to fund a business idea. Among the winners of the Downing Enterprise competition are former CUE competition finalist (2008) Mikhail Chepkin and fellow mathematicians from the University of Cambridge.
"Pursuing higher education does not necessarily mean your research is purely focused on the academic," says Williams. "Much of the research at Cambridge University can be applied to provide novel technology, which in turn can be spun out into a successful start-up."
Williams cites Billy Boyle's Owlstone Nanotech firm as an example of a student-led entrepreneurial venture. Boyle's PhD research at the university was directly applied to the formation of nanoscale chemical-detection chips, which, due to their reduced cost yet high sensitivity, have made Owlstone Nanotech a leading company in its field.
Support schemes
Beyond the college walls there are numerous other influential and graduate-orientated business start-up support funds, competitions and schemes, such as Shell LiveWIRE, which is feted for its awards programme in particular. The acclaimed National Centre for Entrepreneurship in Education (NCEE) also offers a myriad of invaluable support services and structures, including its prestigious Make It Happen programme.
For students wishing to start a new business in Wales, the Welsh European Funding Office provides comprehensive support. In Scotland, the Scottish Institute for Enterprise offers several programmes with graduate entrepreneurs in mind. Advantage, in Northern Ireland, promotes starting a business as a realistic and viable career option to young people aged 16 to 30. The company offers individuals advice and guidance on starting, running and growing a business.
Looking online, graduate careers website Prospects provides advice on funding with regard to start-ups. Similar information can also be found on BusinessFunding.co.uk, which independently researches more than 1,000 sources of business funding and finance. And StartUp Britain, a government-backed campaign by entrepreneurs for entrepreneurs, offers advice for budding business people, while its sister campaign, PopUp Britain, enables start-ups in the retail sector to promote their wares at selected stores across the country.
Spirit of enterprise
Startups.co.uk runs an awards ceremony every year that enables the winners to impress potential investors. They also benefit from a great deal of press coverage, which raises their profile. The NCEE also collaborates with many partners and organisations across the UK and internationally to support students and graduates who want to start a business.
Additionally, over the past two years, Start Up Loans has backed more than 20,000 businesses. Lending around £100 million to budding entrepreneurs, the company has supported the launch of around 650 new businesses by 18- and 19-year-olds alone. Research indicates that younger people are less afraid of risk than more mature loan recipients because they feel they have far less to lose. If they fail, they can pick themselves up and start again.
More than 4.6 million people are now self-employed, with an increase of 404,000 in the past year alone. Although a full economic recovery may have some way to go yet, the spirit of enterprise is alive and kicking among Britain's young people.
Start-up services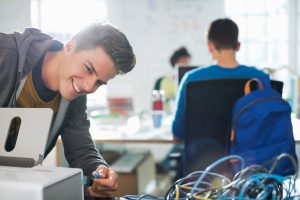 Advantage
www.advantage-ni.com
Cambridge University Entrepreneurs
www.cue.org.uk
Cambridge University Technology and Enterprise Club
www.cutec.org
NCEE
www.ncee.org.uk
Popup Britain
www.popupbritain.com
Prospects
www.prospects.ac.uk
Scottish Institute for Enterprise
www.sie.ac.uk
Shell Livewire
www.shell-livewire.org
Startup Britain
www.startupbritain.org
Start Up Loans
www.startuploans.co.uk
Welsh European Funding Office
wefo.wales.gov.uk
YouNoodle
www.younoodle.com