Constructing a winning CV
To clinch that all-important job interview, you need to sell yourself and stand out from the crowd
Putting together a curriculum vitae (CV) is arguably one of the most daunting tasks for job-seeking graduates. Today's job market is highly competitive, so applicants need to present their skills and suitability for any position in the best-possible way. A concise, well-designed and impressive CV is therefore key to clinching a job interview.
Those vital 20 seconds
The average recruiter spends just 20 to 30 seconds looking at a candidate's CV, which means they merely glance at its most important aspects. With this in mind, you should aim to keep the information on your CV to two A4 pages at the most. These need to be clear and easy to read, using a classic black typeface – do not try to impress employers with your artistic flair or hope to stand out from the crowd through coloured paper or odd typefaces.
Personal statement
This is your first chance to make a good impression. Recruiters will read this section to figure out what benefits you would bring to the company, so use it to explain why you would be a suitable employee. Highlight any relevant work experience and skills you have that fit the job description, but don't describe what you want from the job and your career – there will be scope to discuss this at the interview stage.
Education history
Although your education history is a very important aspect of your CV, there's no need to list every single qualification and grade you have ever gained. State your A-level subjects and results, but just mention your number of GCSEs plus the results in a few selected subjects, such as English, maths and those that are relevant to the job you're applying for.
For your university degree, give the name of the institution, your area of study and your grade or predicted grade, depending on whether you have already graduated or not. Add any relevant information about postgraduate study, qualifications that you are working towards or courses for which you have enrolled.
Career history
For employers, this is generally the most important section of a CV and should therefore come before the education history. However, recent graduates without any significant work experience should highlight their academic achievements first.
The career history needs to convince employers of the applicant's suitability for the post, so you should make time to tailor your CV to each individual job you apply for rather than sending out the same one with all your applications. Your employment history should always start with the most recent position and work backwards in reverse chronological order.
A CV that makes no reference to any kind of work (not even part-time or holiday jobs) will suggest a lack of drive and initiative – not to mention laziness – to potential employers. But if you've got nothing to offer here, don't panic – the National Council for Work Experience (www.work-experience.org), part of graduate careers website Prospects, offers quality work experience "for the benefit of students, organisations and the economy". The type of work may be irrelevant to the jobs that you want to apply for, but it still reveals your personal development and confirms that you are prepared to work.
Volunteering experience also demonstrates that you are motivated, committed and willing to undertake any task in order to further develop your skills and improve your chances of long-term employment. At www.vinspired.com you can source placements by location or by focusing on the benefits you want to gain, the project you want to join or the charity you want to help.
Transferable skills
If you haven't gained any substantial work experience yet, holiday jobs, internships and volunteer positions will not only show that you are motivated and willing to work, but also give you general abilities that can be used across a number of positions and industries.
For instance, you might be able to include on your CV such employment exhortations as "teamwork", "flexibility", "motivated" and "interpersonal and organisational skills", plus any above-average numeracy and literacy abilities. Such capabilities can also conceivably be acquired from hobbies and home life, while the professed possession of all or most of them demonstrates to recruiters that you are well equipped to change or extend your role within the prospective company, as required.
IT proficiency
Most job applicants are expected to possess basic IT skills, especially with commonly used word-processing and spreadsheet software. However, any additional skills in this area should be highlighted for the recruiter's attention because people with a demonstrably advanced knowledge of IT stand a far better chance of securing certain posts.
Listing any experience in graphics programs, web design and programming will definitely make your CV stand out. If you don't yet boast such skills, why not book a short training course during a holiday period? See nationalcareersservice.direct.gov.uk, www.learndirect.co.uk or www.creativeskillset.org for information on free or part-funded IT and digital media courses.
Additional languages
Employers increasingly favour applicants who can speak and understand languages other than their mother tongue, so jobseekers who are fluent in two or more languages will find that they have enhanced employment options open to them, especially with multinational companies. Some universities provide intense "crammer" foreign-language courses (sometimes for free) during the summer holidays, so check with your careers service to see what's on offer. You can also visit the Learning Space website (www.openlearn.open.ac.uk), which features Open University course materials, including numerous modern-language units.
Interests
Don't feel tempted to reel off every hobby or sport in which you have participated since you were a child. Only include the interests that you have now and keep the list short and relevant – volunteering at a local community centre will impress most employers, whereas your love of tropical fish probably won't. If any of your interests could significantly assist your job application, such as fluency in a second language when applying to a company with offices worldwide, list this first.
Last-minute checks
Make sure that you have included basic information such as your email address and phone number. It is wise to check with your referee that they are happy to be contacted and tell them what job you are applying for, so that they will be ready if contacted by telephone to give you a reference "on the spot".
Don't risk spoiling a good application by overlooking a spelling mistake. If possible, ask someone else to check your CV and covering letter for spelling and grammatical errors, too, as a fresh pair of eyes may pick up something you have missed. Relying solely on a computer's spellcheck facility may lead to incorrect meanings or Americanisations.
Learn to be objective about your CV – get a second opinion and be prepared to make changes until both the covering letter and the CV do the best-possible job of selling you to a prospective employer. And don't be discouraged by brief rejection letters that do not even ask you to attend an interview – or, worse, no reply at all. Employers are often inundated with applications and therefore don't have time to respond to each applicant individually. Simply remain patient and positive in your approach to job-hunting – the right opportunity might come along sooner than you think.
Superlative CVs
There are fistfuls of expedient, expert and, importantly, free resources out there offering hands-on help with compiling or improving your CV. For instance, graduate careers website Prospects features specific examples of alternative approaches to compiling a CV, such as traditional, skills-based and academic.
Elsewhere, the Student Room (www.thestudentroom.co.uk) is staffed by "CV Helpers" to whom you may send your CV for authoritative advice on how to improve it. Likewise, the government's careers advice site (www.nationalcareersservice.direct.gov.uk) has a CV builder on its website and offers feedback via email, telephone or face-to-face appraisal. Online recruitment colossus Reed not only offers a range of employer-approved sample CVs, but also provides a free CV review service, undertaken by an HR expert.
Resources
Take full advantage of your university's careers service. Careers advisers at Cambridge, for example, have compiled two useful guides: CVs and Cover Letters and CVs and Cover Letters for PhDs and Postdocs. Both books, which are free to Cambridge students and graduates, feature sample CVs and covering letters – see www.careers.cam.ac.uk/library. You should also plunder your local library to source tried-and-tested titles such as You're Hired! CV: How to Write a Brilliant CV by Corinne Mills.
Covering letter
Every CV you send out should be accompanied by a covering letter demonstrating why your skills and expertise make you the ideal candidate for the job you're applying for, with reference to the job description and specifications. Like the CV, the covering letter should be short, sharp and to the point – it should be no longer than one page.
Use the opening paragraph to explain why you are applying for the post and the closing paragraph to say when you would be available for an interview. The phrase "at your earliest convenience" is a useful way of saying that you would be willing to come along at any time.
Contacts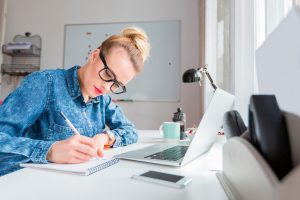 Courses, tools and work
Creative Skillset
www.creativeskillset.org
learndirect
www.learndirect.co.uk
Learning Space
www.openlearn.open.ac.uk
National Careers Service
www.nationalcareersservice.direct.gov.uk
National Council for Work Experience
www.work-experience.org
The Student Room
www.thestudentroom.co.uk
vinspired
www.vinspired.com
Writing a CV
cvtemplate
www.cvtemplate.co.uk
The Guardian
www.careers.guardian.co.uk/cv
National Careers Service
www.nationalcareersservice.direct.gov.uk
Reed
www.reed.co.uk/cvbuilder
University of Cambridge Careers Service
www.careers.cam.ac.uk/library
Writing a cover letter
The Guardian
www.careers.guardian.co.uk/covering-letter-mistakes
Prospects
www.prospects.ac.uk/covering_letters.htm