Experience pays?
Many firms give graduate jobs to those who have already done internships with them, so getting work experience can be vital
Gaining work experience and making industry contacts through an internship scheme has never been more important than today. According to High Fliers Research's most recent annual review of graduate vacancies at Britain's leading employers, in 2016, around a third of those jobs were filled by candidates who'd already undertaken work experience for those employers, either in the form of industrial placements, paid internships or vacation work.
"The opportunity for students to get hands-on work experience in their chosen fields puts them in a very strong position when they come to applying for jobs after graduation," says Professor Eric Thomas, the former President of Universities UK. Indeed, with a little research and effort, finding the right internship can give you a tangible edge over other applicants.
Structured internships
The type of work and the workload often vary greatly, so it is important to get as much information about the internship as possible before you start to avoid disappointment. A summer of photocopying and coffee making may yield useful contacts and insights, but it is still a world away from the highly structured internship programmes that offer involvement in live projects with real business experience.
The best internships offer candidates both practical training and a chance for personal development. They are available in all shapes and sizes and can be as short as a week or as long as a year. But to attract the maximum number of student applicants, blue-chip employers normally ensure that the internships they offer fall within the academic holiday periods.
Such companies will usually have a high-profile graduate recruitment presence and will therefore already be familiar to students through their university careers service or job fairs. Their internships are also widely advertised on company websites and in university media. Many of the organisations – including well-known City firms and global corporations – can offer a diverse range of placements in sectors such as financial services, law, sales and marketing, IT, engineering and HR. Typically, these internships take place in the last year of an undergraduate course, enabling students to put their studies into practice and gain vital work skills.
Some organisations also offer internships that count towards a recognised qualification, such as an MBA. However, there are costs involved for participation in certain academic programmes, so check whether the company would pay for these in full. Meanwhile, other employers run part-time programmes during term time or make more ad hoc placements, taking on students and graduates as the need arises. These companies are more commonly found in the arts sector – media, publishing, advertising and design – and the placements usually require more effort to find and secure.
Some smaller employers may not advertise internships but still be open to taking on students or graduates who show initiative by approaching them. So, it is always worth contacting a company to ask about the possibility of internships. In such cases, it is advisable to reach an agreement before you start about what kind of tasks you will be expected to carry out.
Well paid – or no pay?
Payment for internships is something of a grey area. According to www.gov.uk/employment-rights-for-interns, if an intern is classed as a worker, they usually should receive the national minimum wage. However, terms like "work placement" or "work experience" have no legal status attached to them, and so the remuneration depends on whether the intern is classified as a volunteer or not.
Generally speaking, interns are paid travel expenses and may also receive a stipend to cover other expenses. However, as well as unpaid internships there have been worrying examples of students being asked by companies to pay in order to secure a work placement.
Intern Aware is a national campaign for fair, paid internships and a good point of contact for anyone who genuinely feels exploited during an internship and wants to complain about it. "We campaign for interns to be paid because we want jobs to be accessible to the most talented people, not just those with the heaviest pockets," says Ben Lyons, Co-Director of Intern Aware. "Unpaid internships and paid-for internships put crucial experience and opportunities out of reach of the vast majority of young people.'
Should you have difficulty in finding an internship position, you can always sign up with one of the growing number of recruitment agencies, which do not charge interns for finding them a position. And for words of wisdom – and warning – from other interns, browse the Interns Anonymous forum.
The view from the other side
Understanding a company's viewpoint is key to making your internship a success. It may seem as though it's a one-sided arrangement, with you selflessly providing free or barely paid labour. However, many companies invest considerable time and money in recruiting and developing their interns, too. Even the most minimally supervised intern still requires explanations, directions and instructions, which represent time away from
work for other staff members.
Because of this, interns are increasingly recruited to similar standards as permanent employees, meaning that references and a high-calibre CV are essential. Interns may also be asked to sign a letter of agreement or mini-contract before they start, to ensure both parties fully understand their mutual goals and aims as well as the level of commitment required.
A Networking opportunity
In addition to boosting skills and enhancing CVs by giving students a chance to experience the world of work, internships are great opportunities to network. For better or worse, this also means socialising. Whether it's going for drinks at the end of the day, going to company events or even just making small talk over the coffee machine, it will make all the difference to how an internis perceived.
Networking is important because most vacancies aren't formally advertised but filled through a combination of internal promotion and word of mouth, meaning that even the best CV and covering letter are of limited value if the people who matter don't read them. However, networking isn't just about unearthing job opportunities – contacts made during work placements may potentially act as referees in the future and can also provide invaluable insights into the culture of your target industry and the skills needed to succeed in it.
It is vital to keep up the effort even after the placement is finished and to get into the habit of exchanging details with anyone who might be useful. And it is also essential to understand that the most successful networkers don't necessarily blow their own trumpet but encourage others to blow theirs.
That is to say, the secret of getting something you want from someone is to get them to talk about themselves and their interests and being interested in what they have to say. It's not rocket science – people are more likely to think positively about someone if they're seen for what they can give rather than what they're out to get. Offers of help and a clear desire to learn about a contact's industry or expertise will therefore usually attract far more attention than a barrage of job enquiries. So, if you bear that in mind, you're in a great position to reap the greatest possible benefits from your internships.
Stepping stones to success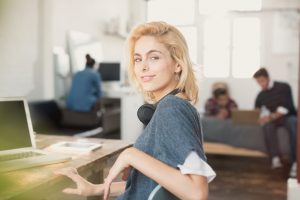 1. Do your research
Think about what kind of environment is likely to benefit you most and then target appropriate companies.
2. Speak to a former intern
Doing so will help to build up a clearer picture.
3. Have realistic expectations
Many internships are entry-level and involve everyday tasks – make sure you are prepared to cope with these for the duration of your stay and keep focused on the bigger picture.
4. Network
Any contacts you make could prove valuable later when you are actively looking for a job. You are more likely to be informed about vacancies if you get to know employees and stay in touch with them.
5. Ask questions
If the information you need is not forthcoming, ask. Asking questions heightens the learning curve – and may lead to surprising results.
6. Make the most of your internship
Even if the experience doesn't match your expectations, determination will always pay off. Learning that a company or profession isn't the one for you is still a valuable experience. Tell yourself not to be defeated by negative experiences. Observing how other people deal with situations and problems will teach you a lot.
7. Behave appropriately
Impress colleagues with a professional attitude and you're more likely to be remembered. Demonstrate manners and enthusiasm, but don't let yourself be exploited.